Peoplemeters celebrate 23rd anniversary of their existence
2. 6. 2020
TV audience measurement, which is carried out electronically in the Czech Republic, using so-called people meters, celebrates just today its 23rd anniversary. They were used in our country for the first time already in 1997. Since then, this measurement method has undergone various improvements and today is one of the most advanced worldwide. The research for the client and project owner, the Association of Television Organisations, is performed by the research agency  Nielsen Admosphere.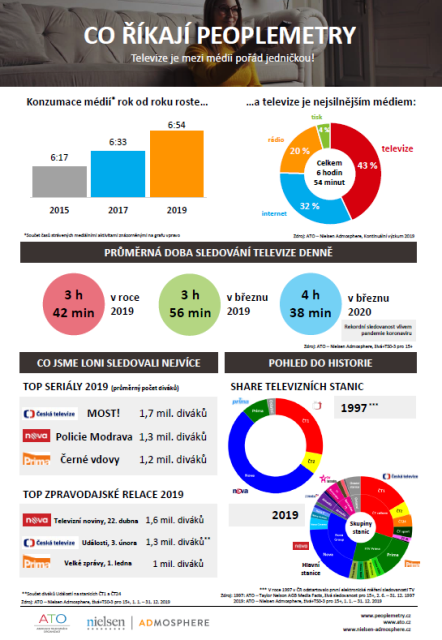 What do the measured figures say to us?
Thanks to the people meter project figures, we know, for example, that television is the strongest medium. Every day we dedicate it, on the average, more time than to listening to the radio, reading press or surfing the Internet. Last year, television was watched for 3 hours and 42 minutes a day on the average (in the category 15+).
At the time of announcement of the state of emergency in connection with the coronavirus pandemic, television became the main and extremely important source of information to the population of the Czech Republic. The viewing figures especially about news programmes went up to more than a double as compared with the usual levels. "Data generated by our measurement show that television is still a very important part of our lives and it is able to reach out to all generations nowadays, too. In the last several weeks, it was revealed, moreover, that at crisis times, its task becomes even more important," says Tereza Šimečková, chairman of the Board of Directors of Nielsen Admosphere, commenting on the results of the measurement.
Glimpse back into history and last-year figures
Since the year 1997, when the audience measurement using people meters started in the Czech Republic, the variety of TV channels has significantly changed – at that time we could pick from four main Czech channels only, whereas today there are several times more of them available to us.  But it was also our programme preferences what has changed: the most-watched programme in 1997 was The Miss of the Decade, whereas last year, 22 years later, what was most watched was the new fairy tale The Princess and Half The Kingdom. Within the framework of the biggest television groups, it was also series that scored in 2019, the most-watched series on Czech Television was the series titled MOST!, whereas on Nova the most popular series was Modrava Police and on Prima it was Black Widows. On a delayed basis, i.e. later than they were broadcast, the most-watched series were MOST! (Czech Television), The Dark Region II (Prima) and Modrava Police (Nova).
"According to the ATO´s task, since January 2018 it has been measured how much television is watched over the Internet, through digital devices such as PCs, tablets, mobile phones or smart TV receivers with HbbTV platform. The figures resulting from such measurement are analysed together with the figures generated by people meters and they bring evidence about transformations of the viewer behaviour. Neither the present digital age deprived people meters of their key role," says Vlasta Roškotová, executive of the ATO, and she adds that "the measurement using people meters is still the most extensive and financially most demanding media project in the Czech Republic."